FeedBlitz introduces Embedded Subscription Forms
Using FeedBlitz or any third party service requires your visitors to move away from your site when they are subscribing or using that service.
Google's Custom Search Engine as well as Adsense for Search ensured that visitors stayed on your site by embedding custom forms on pages of your site.
Now, FeedBlitz has introduced Embedded Subscription Forms. For this you need to login to FeedBlitz and navigate to Newsletters > Forms > Subscription Forms.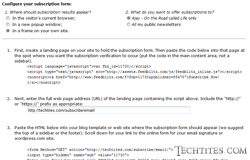 You need to create a page on your site with the code in Step 1 of the screenshot above and upload the same on the site. Step 2 requires you to enter the url of this page.
Copy the code in Step 3 and paste this anywhere on your site. This code is for the form in which the user will enter his email address.
Now, whenever the user submits this form he gets redirected to the url you entered in Step 2. Are you using FeedBlitz? What is your experience on the same? Will you be using the embedded form on your site?