Facebook Improves Its Comment Box on Websites
Facebook has just announced a number of improvements it has introduced to its comments box on websites. These improvements are:
1. Increased Social Relevance
Comments are ordered to show users the most relevant comments from friends, friends of friends, and the most liked or active discussion threads, while comments marked as spam are hidden from view.
In the example below, Cat is my friend and I see her comment first: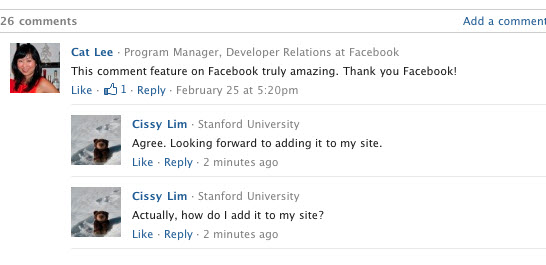 2. Better Moderation Tools
New moderation tools have been added based on developer feedback. Admins can choose to make the default for new comments entered either "visible to everyone" or "has limited visibility" on the site (i.e., the comment is only visible to the commenter and their friends), to help mitigate irrelevant content. Admins can moderate on the Comments Box directly or on the moderation dashboard. The moderation dashboard, accessible from a link on Settings, aggregates comments from all Comments Boxes across your site and shows a public and admin view.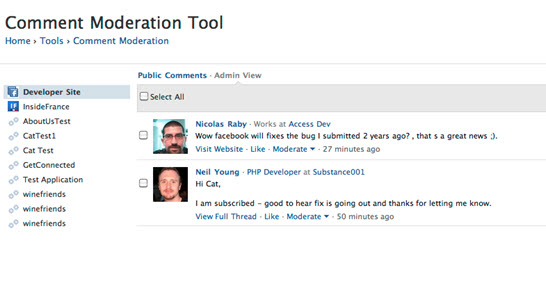 3. Improved Distribution
Comments can now be more are easily shared with friends or with people who like your Page on Facebook, opening up your content to a wider audience. If a user leaves the "Post to Facebook" box checked when she posts a comment, a story appears on her friends' News Feed indicating that she's made a comment on your website, which will also link back to your site.

4. Enabling other login providers
In addition to Facebook for login, you can also give users the option of logging in and commenting with other login providers (option is set via the "Settings" link). If the user does not have a Facebook account or is not logged into Facebook, she can comment with other accounts to leave a comment. We plan to add other login providers soon.
Instructions on how to integrate the new comments box on your website can be seen at http://developers.facebook.com/blog/post/472