Express Planner, free planning software (Mac/Windows)
Planning and scheduling projects is not that easy when you don't have efficient tools. Here comes Express Planner that is totally free.
Express Planner is free project planning software ideal for freelancers and small companies. See below how easy it is to get realistic schedules.
1. Plan creation
You start creating projects, tasks, date constraints and you also define your task requirements in terms of "Who do I need to do that task".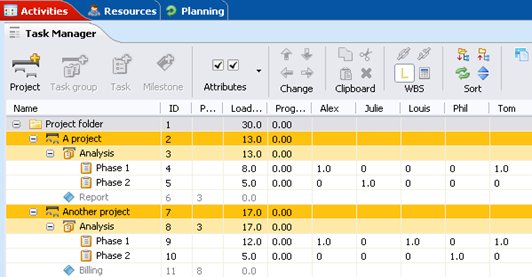 2. Resource creation
You define your people and also their availabilities (contract dates, holidays…).
3. One step left, up to you to schedule manually or automatically
You chose how you want to schedule, manually or automatically.
The application comes with two scheduling modes: automatic and manual mode:
· Automatic scheduling: no over-use of resources, the application automatically solves these problems;
· Manual scheduling: you manually adapt your plan in a fancy interface.
4. Analyze the schedule produced
You get up to 6 reports that can be printed and exported under several formats (html, Excel, PowerPoint…)

A community is made available to users; you can ask questions, watch video tutorials and also download dozens of ready-to-use project planning templates.
Features overview of PlanningForce Express Planner
· Create unlimited Projects;
· Define date constraints and goals;
· Define unlimited people;
· Define individual and global calendars;
· End-dates and start-dates of projects and tasks are automatically calculated;
· Two scheduling modes;
· Generate up to 6 reports to share your plan results;
Click here to download Express Planner.