Windows is powerful, but then we all crave for more power. SecondShell is a free portable software, providing useful enhancements for the Windows shell with some extra help to netbook users.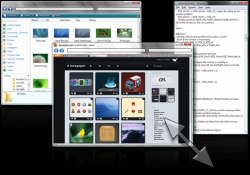 Key features:
Maximize windows Horizontally or Vertically
Move and resize windows easily
Minimize and close applications easily
Use up to 10 custom hotkeys to launch your frequently used application
Change the CapsLock button into middle mouse button
The best part of this is that the software is portable, which means you just need to unzip it to a particular folder and run it.