Embedded Options – A Chatwing Embedding Tutorial
A site performs better if you compliment it with a chatting tool to provide customer support. And Chatwing comes second to none when it comes to live chat performance. This chat software has a very efficient chatting capability further augmented by the several features it has. And embedding it on your site is very easy – you'll be done before you even know it.
Just follow these steps to start chatting on your site using the chatroom.
Step 1: Registration
Go to Chatwing's homepage and create an account. Open the registration form and fill it up with your email address and the password for your account. Check the boxes below it before submitting to successfully complete the process.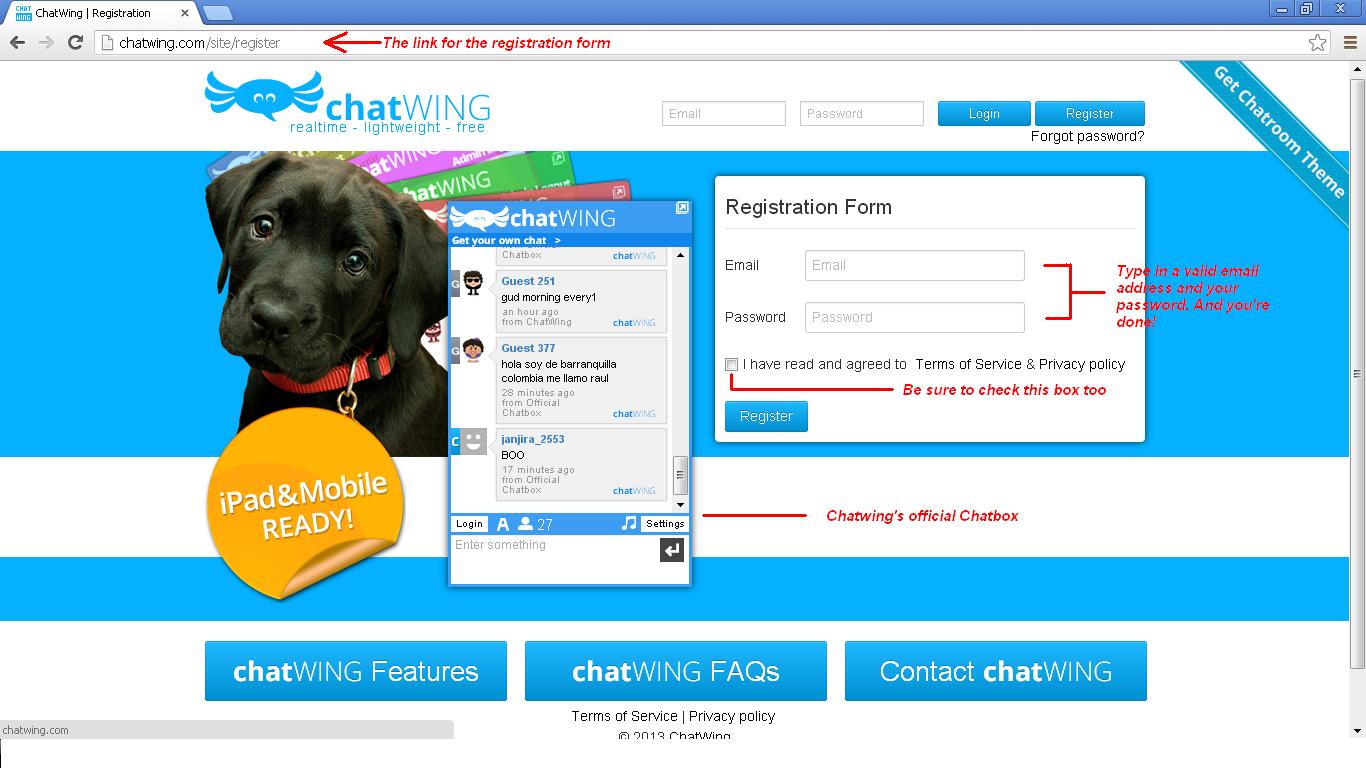 Step 2: Creating the Chatroom
You'll be redirected to the Dashboard page next. You can create your chatroom here by pressing the Create chatbox button. This will also redirect you to the next page.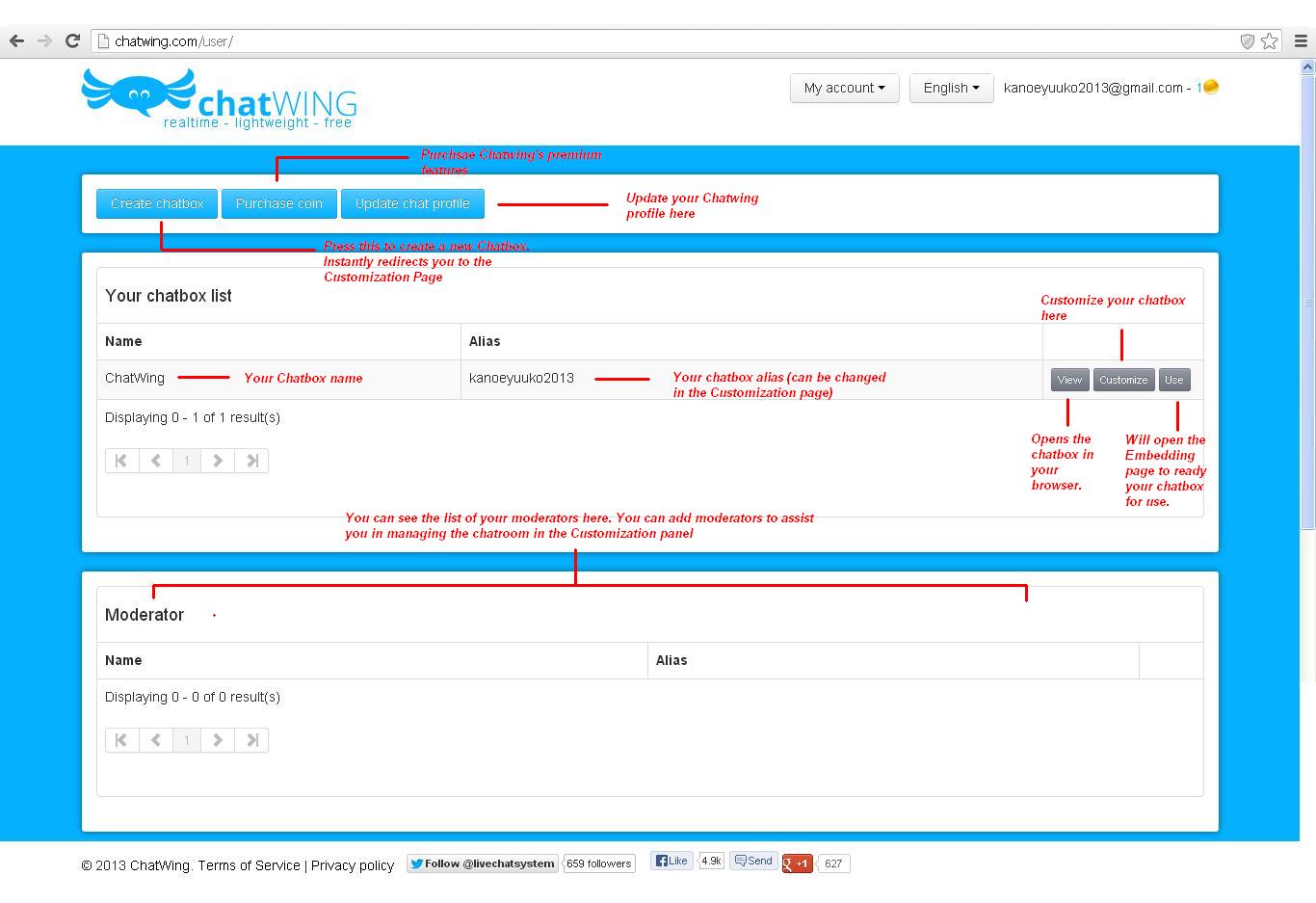 Step 3: Customizing
The next stop is the Customization page. In here, you can modify the appearance of your chatbox as well as set up its additional functions. In a nutshell, through customizing, you'll be able to draw out Chatwing's full potential. This process is very easy since it is intended to be user friendly and the page is divided into tabs to make it easier for navigation.
While changing the settings on each tab, you have to make sure you save your progress by pressing the Save buttons found on the bottom of each tab. You can see the changes you've made so far via the preview window. When you're done customizing, press the Use button – it's located above the customization page.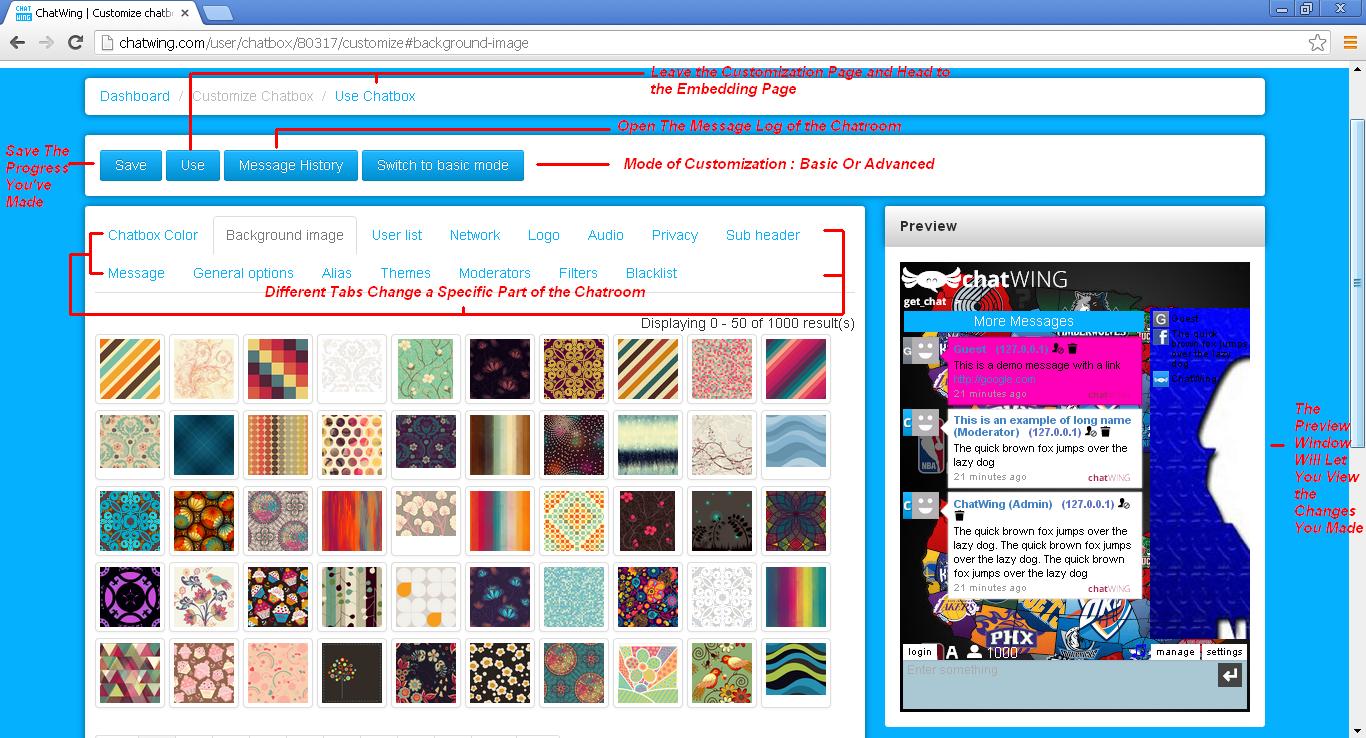 Step 4: Embedding
Embedding your chatroom comes next – you can do it here in the Embedding page. But for now, you have to choose which embedding method you are using for it. The best choice would be Embedded Options so pick that.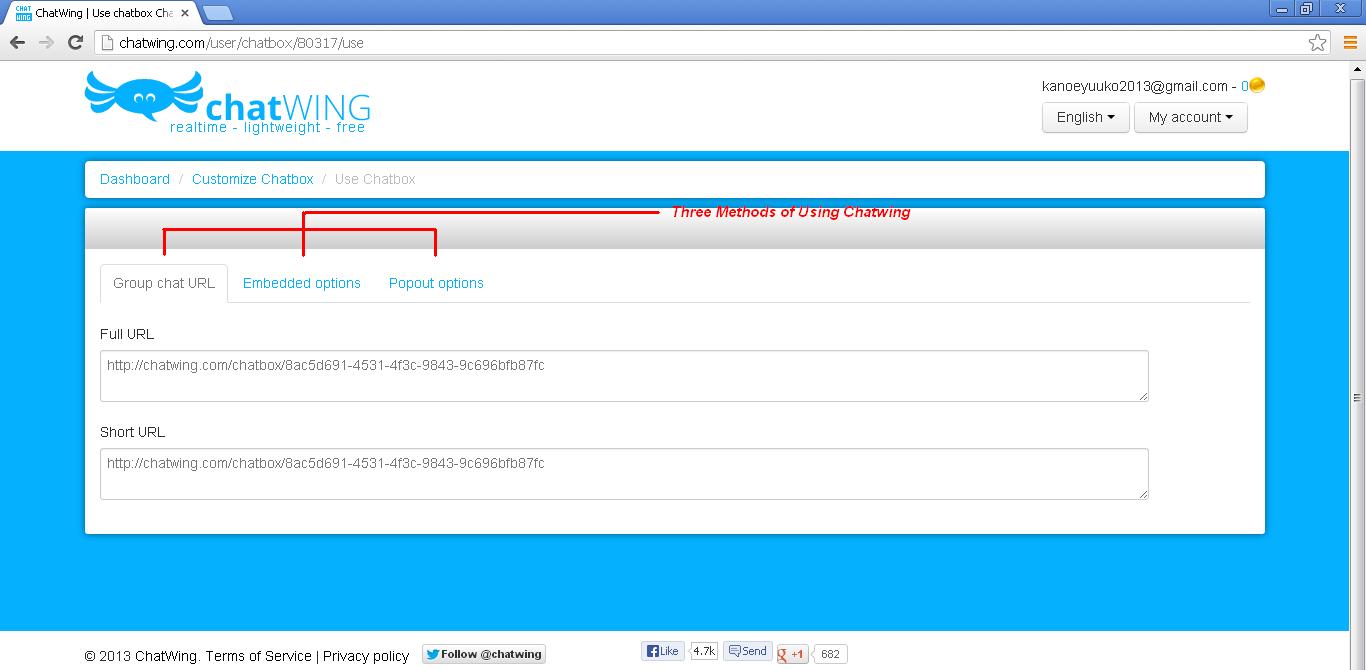 Step 5: Embedded Options
In this tab, you can find the HTML codes for your chatroom. But before using it, you can still change the size of your chatroom using the height and width scrollbars. You can see its current size on the preview window – it will change accordingly as you drag the scrollbars.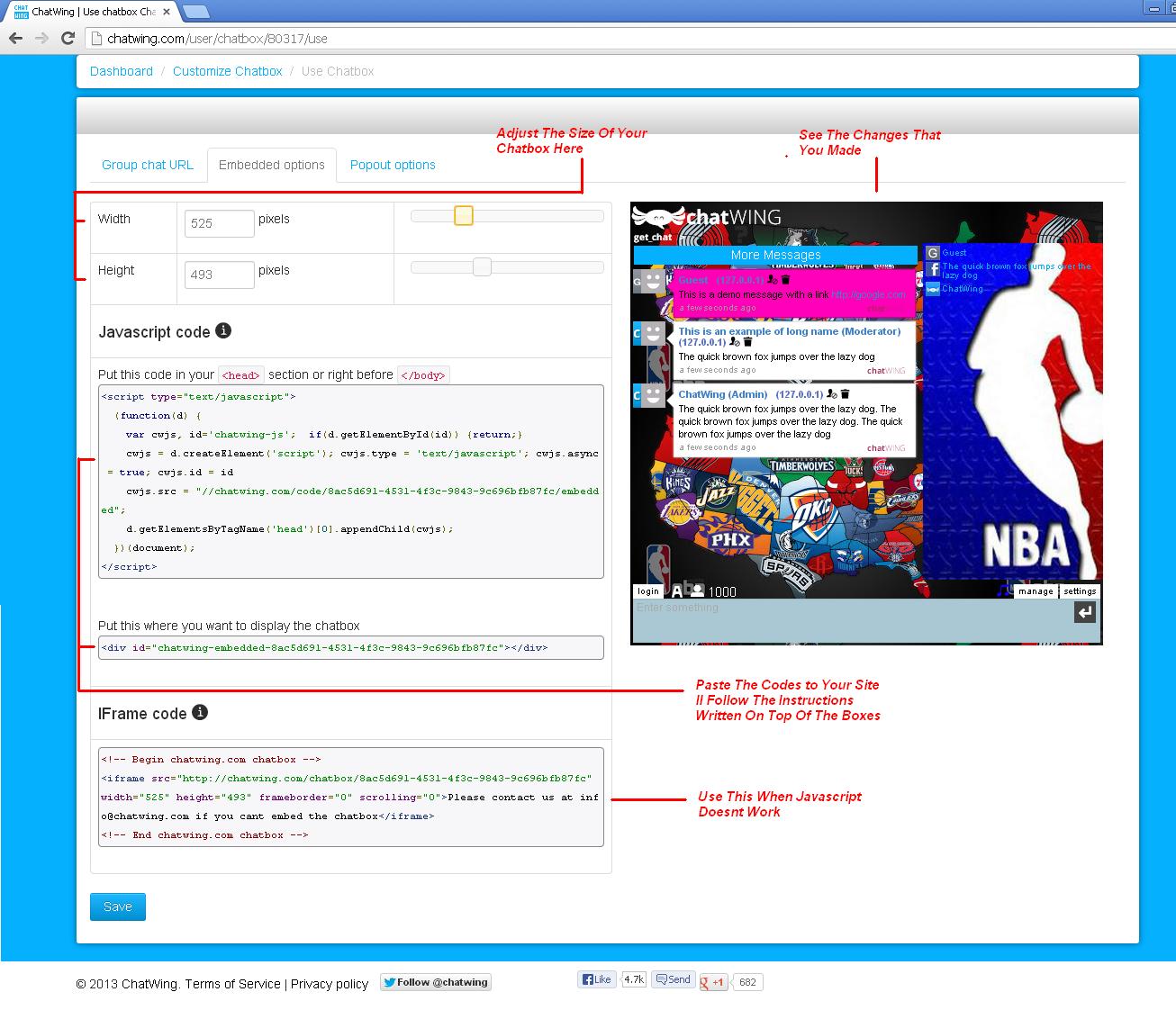 When you're done changing the size of the chatroom, you can search for its Javascript codes below. Copy the codes in it and open your site. Locate the place where you want to embed the chatroom and paste the codes there. Save your changes and open your site again.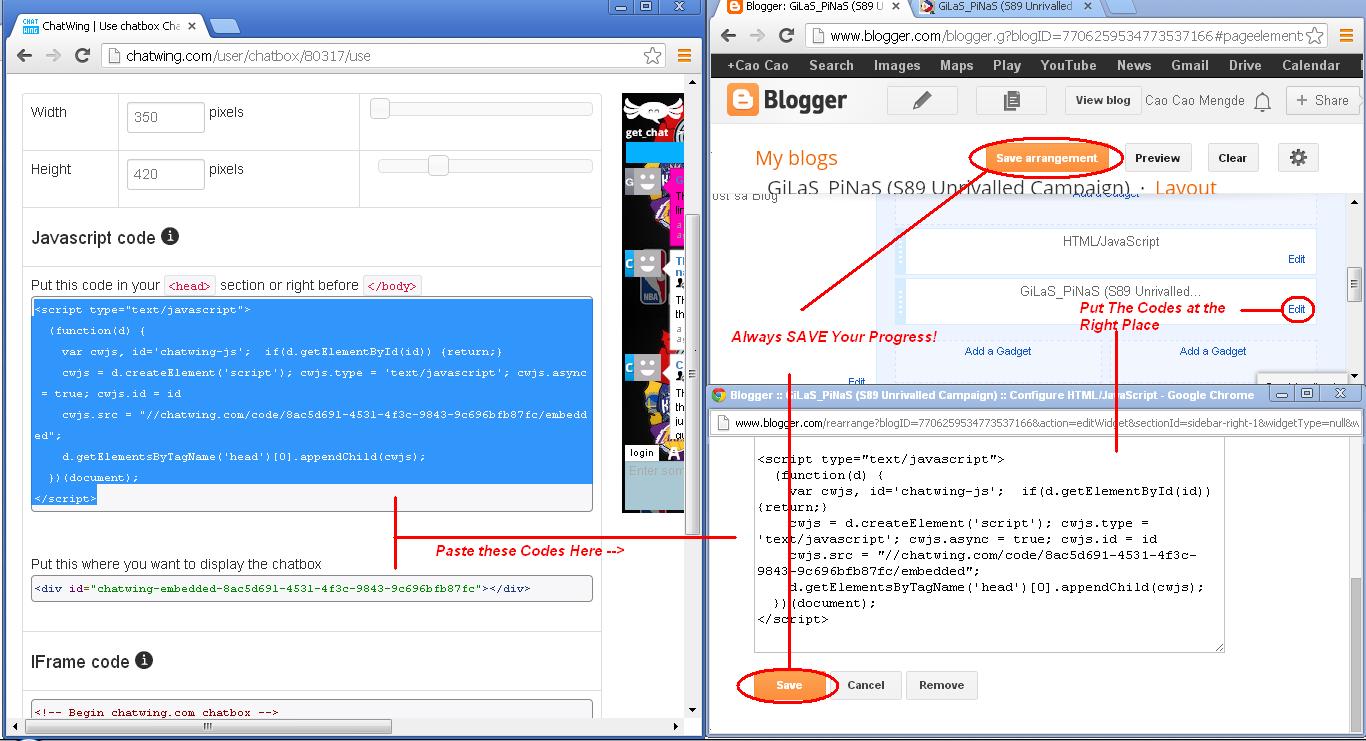 Your chatroom will be functional and ready for use.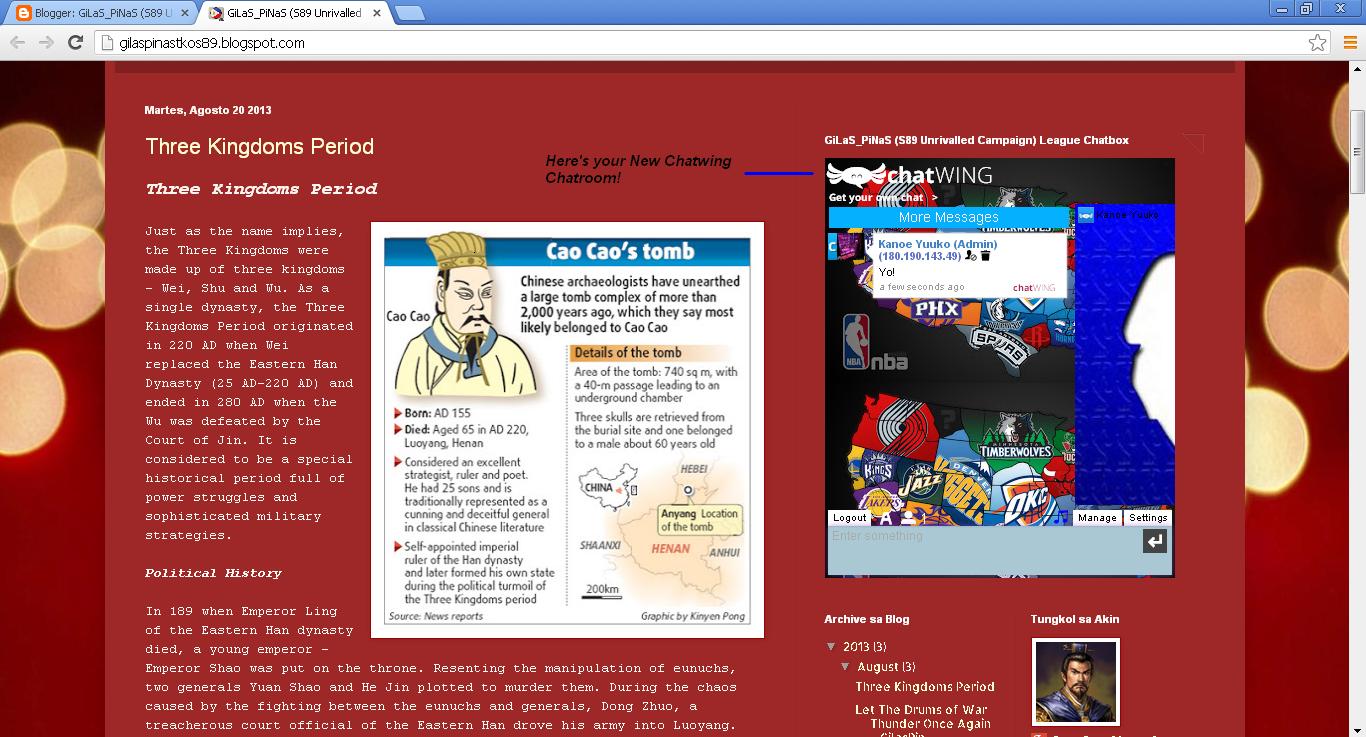 Using Your Chatwing Chatroom
The chatroom is very easy to use and manage. As the one managing it, you have full control over the chatroom. You can kick any nuisances and delete messages when you find it bad for your site's reputation.
Your viewers can use their social media accounts to easily join in the conversation. As of now, it allows Facebook, Twitter, Google, Yahoo and Tumblr accounts. Through this, logging in won't be a hassle – you can even login anonymously if these methods doesn't suit you. As the chatroom's owner, you have the capability to turn it to however you want it to be – a very lenient tool that accepts everyone or a tool that only lets you chat once you abide to certain conditions.
Chatwing is not only efficient, it's also a very affordable tool that everyone can have. Though it comes with premium features that need to be bought to be used, most of its additional functions along with the chatting tool itself can be acquired for free. So start chatting with your viewers using Chatwing today.