Edit Your Documents Online with Shutterborg
I have just stumbled upon a very cool web application that allows you to use word processor with in your web browser. Shutterbrog lets you edit your documents online totally free of charge.
It offers a very user friendly interface and makes every thing easy for you. You get the option to either edit your existing documents or create a new one. You can edit these documents in PDF, Microsoft Word, plain or rich text content.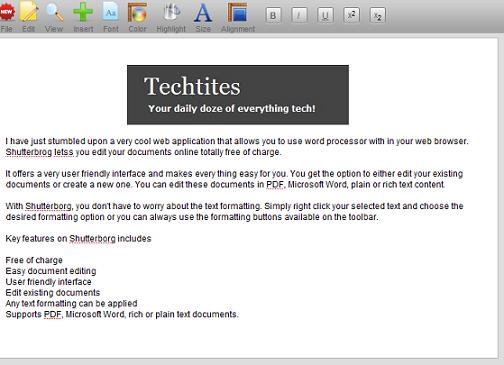 With Shutterborg, you don't have to worry about the text formatting. Simply right click your selected text and choose the desired formatting option or you can always use the formatting buttons available on the toolbar.
Key features on Shutterborg includes
Free of charge
Easy document editing
User friendly interface
Edit existing documents
Any text formatting can be applied
Supports PDF, Microsoft Word, rich or plain text documents.
It currently supports all common JavaScript-capable web browsers, including: Firefox, Safari, Opera and Internet Explorer 6+.