Edit and Annotate Images Online with PhotoRem

If you are a blogger, having a good photo editing software is really important so that you can easily edit screenshots which can be used in posts. There are many software on the internet which enable users to edit photos but the problem is that most of them are paid and are expensive. However, online editors are becoming really popular these days as you don't have to install any software and you can perform all your photo editing tasks online and save them. Today, we came across an excellent free online utility, PhotoRem, which enable users to upload and edit images online without installing any software.
With PhotoRem, you can upload all your documents, pictures, videos online. You can even edit images, annotate them, create slideshows, take snapshots from your webcam and later share them on different social networking websites or email it to yourself or any friend. Using PhotoRem is really simple and straight forward. But in order to use the service, you have to make an account where you can upload and perform all the photo editing tasks. You can even upload videos and pictures from YouTube and Picasa.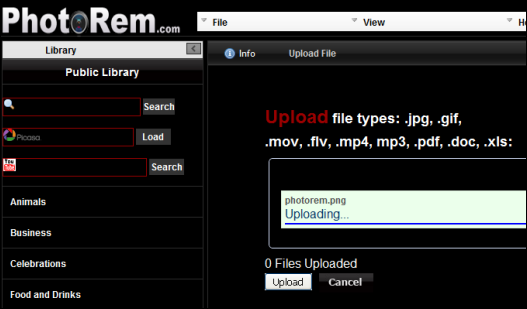 Main Features of PhotoRem:
Upload important files including photos, videos documents
Zoom, annotate, paint, filter, crop, resize and rotate images online
Create Slideshows
Take snapshots from webcam and edit them
Share on multiple social networks including Facebook, Twitter and many more
·And much more….
PhotoRem is a must try online utility for those who work with images and do not want to install any software.