Easily Manage Browsing Sessions in Google Chrome
There is no such feature in Google Chrome which allows users to manage their sessions so that they can be opened later. Today, we came across an excellent extension for Google Chrome, Session Manager, which enables users to manage their session in Google Chrome and open them quickly any time. The default option in Google Chrome only restores the last browsing session and if your browser suddenly crashes, you can lose all opened tabs.

With Session Manager, you can manage multiple browsing sessions, rename them, open or remove them anytime. First of all, download and install Session Manager. A small icon will appear right next to the address bar along with other installed extensions as shown below:

Click on the Session Manager icon and it will automatically save the current opened session. Just rename the session and click Save. You can later open this session by clicking on the Open button for that session.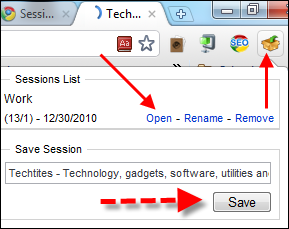 Session Manager is a really useful extension for Google Chrome which can really save your time so that you don't have to open all the tabs again and again.