Google Chrome is an actively developed browser. At the time of this post, the current development version is 2.0.156.1.
Google publishes release updates to different release channels as follows:
Stable channel. A fresh installation of Google Chrome puts you in this channel. The Stable channel is updated with features and fixes once they have been thoroughly tested in the Beta channel.
Beta channel. This contains monthly releases of relatively stable features of Google Chrome. The Beta channel is more stable than Dev, but may lack the polish one expects from a finished product.
Developer preview channel. The Dev channel is where ideas get tested which means that the Dev channel can be very unstable at times. Using Dev channel releases is an easy way for anyone to help test and improve Google Chrome.
Normally, you would be on the Stable channel normally, however if you are keen to check out the new features that Google Chrome has to offer then you can switch to the Beta or Development channel using Google Channel Changer.
1. You would first need to download and install Google Chrome.
2. Download and run the Google Chrome Channel Changer [100KB]. Make sure Google Chrome is closed.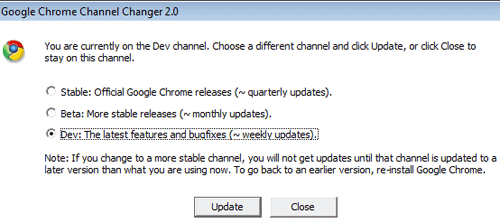 3. Select which of the three channels you wish to download updates from and hit Update.
4. Open Google Chrome and hit the Wrench menu in the top right and select About Google Chrome.
5. Chrome will then check for updates and download the latest development option.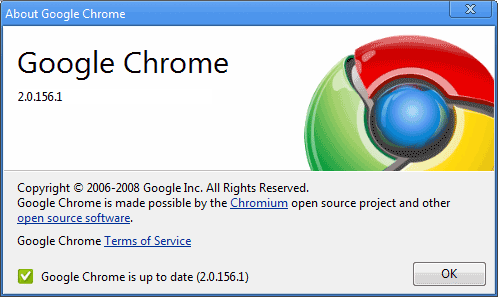 6. Close and restart Chrome. You are now on the new version.
Note: You will not be able to switch back to a previous version of Google Chrome without uninstalling it first. Alternatively, you can switch back to the Stable Channel and wait till a higher version is released.