Numerous methods exist to recover deleted files. These methods usually depend on the nature of device the data is being recovered from i.e. the method depends on whether the file was deleted from the hard disk, memory card, or flash drive. There are a number of tools, software, out there providing data recovery solutions according to the media type. The best of these tools are not freeware and seldom support all media types. Today, we look at a data recovery application which along with being a freeware, also supports data recovery from all media types.
This application is DiskDigger.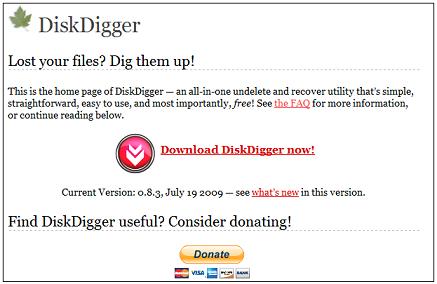 The setup file is roughly 700 KB, so the download only takes an instant. Moreover, no installation is required to run the program. After downloading and extracting the ZIP archive, you can go ahead with using the DiskDigger. Here is how the program looks like: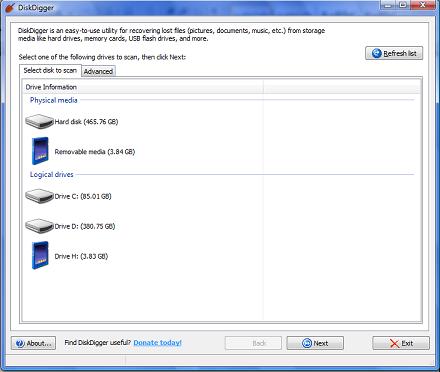 The loading time of the application is hardly a second. On my machine, DiskDigger's memory footprint was ~2 MB.
To look for deleted filed, select the appropriate media and click on next. You will be presented with this screen: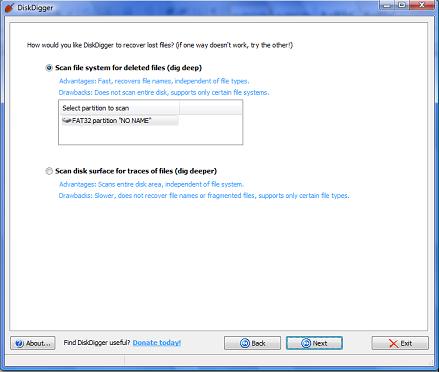 You can choose out of two scanning methods. The pros and cons of both are listed right under the options, as visible from the screenshot above. Choosing either method, according to your preferences, and clicking next will thoroughly search your device for any deleted files. Those files will then be listed and you will be given the option to restore them.
The user-friendliness makes this application suitable for professionals and beginners alike. The easy-of-use, minuscule setup size, and the small memory footprint make DiskDigger an ideal data recovery program.