Conversations – Now on Google Reader
Google Reader isn't really my favorite feed reader since I prefer Feed Demon for this purpose. However, I know a lot of users who swear by Google Reader mainly because it is online and accessible from anywhere.
Last year Google Reader added the ability to share feeds and added a sharing bookmarklet to make this task even easier. However, this was still limited in customization and you couldn't leave notes as to why you wanted to share.
Not anymore! Google Reader now adds the ability to add comments to your shared items.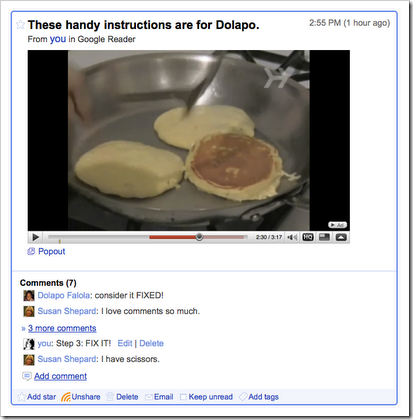 What's new?
You can comment on any items that you share or that have been shared by your friends.
Comment View to easily track conversations on the shared items
Comment Notification icons to understand that there are new comments
Track multiple conversations when the same item is shared by different friends
And, do all this on your iPhone as well!
Have you already started using this features? What would you like to see added in this?