Control your tasks and processes with Auslogics Task Manager
Ever see your CPU usage spiking or the occasional process eating up a bit more memory than desired? Windows Task Manager is a great tool for this, however, if you are looking for something a bit more powerful, you might want to try out Auslogics Task Manager.
Auslogics Task Manager will allow you to view the applications, processes as well as services that are currently running. It provides comprehensive yet easy to understand information about running applications, processes, and services, as well as disk activity, CPU, RAM and Internet traffic usage.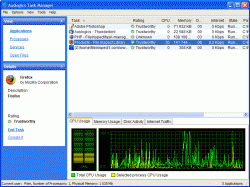 Features:
Not only does the program display all running applications, but also CPU load by any selected application.
The program displays all running processes and CPU load by each process.
Auslogics Task Manager displays all services running on your computer. You can also view detailed information about each service.
It is available as an installable as well as a portable version. The portable version is my preferred choice since you can carry it around in a USB drive and it doesn't write anything to the registry.
This becomes extremely useful when you are trying to debug a system that has been infected by a virus and the the windows task manager has been disabled.
Download Auslogics Task Manager
Download Auslogics Task Manager Portable