How many times have you struggled to send PowerPoint Presentations and Word documents to your friends / colleagues only to be overwhelmed by their sheer size!
You can choose to zip or rar these files and send them across, but this would require the user there to have a program to unzip or unrar the files.
PPTminimizer for Word and PowerPoint compresses PowerPoint presentations and Word documents without changing the file formats.
Features:
File compression by up to 98%
Compresses all PowerPoint presentations from PowerPoint 97 to 2007 (PPTX)
Compresses all Word documents from Word 97 to 2003
Keeps the original file format – no unzipping required
Compresses StarOffice and OpenOffice presentations and documents provided they are saved in a Microsoft format
Compact edition runs directly from CD or USB flash drive – no installation required
Integrated search function
"Drag & Drop" files directly into PPTminimizer to optimize several files at once
4 different compression levels
Add-ins for Microsoft Outlook, PowerPoint, Word and Windows Explorer
I gave it a test drive with a few files and got really spectacular results as can be seen in the screenshot below. I was able to reduce the combined 30MB of 15 files to around 18MB.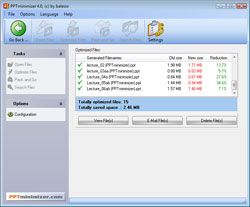 And now for a limited time you can get a free single user license of PPTminimizer 4.0. The campaign is for PC Adviser users, but anybody can register by simply filling in their details. Request a key now!
Via: Blog Solute