Our friends do not always use the same email clients as ours. This means that often we find ourselves communicating via emails and not instant messages because our instant messengers do not support each other's email account. Even if chatting is possible, many of our IM clients' features are not usable when we are chatting with somebody of a different email type. For example in Windows Live Messenger, we are able to chat with our Yahoo contacts but we cannot send them Winks.
One solution of course is to use the same instant messaging client. This however can become quite a problem since we cannot keep installing and uninstalling messaging clients. The best solution then becomes using web based instant messengers which allow easy, quick usage without the need of anything's installation.
Read our list for seven of the top free web based instant messaging clients currently available. See which one is best for you and supports the emails you and your contacts use.
1. Instan-t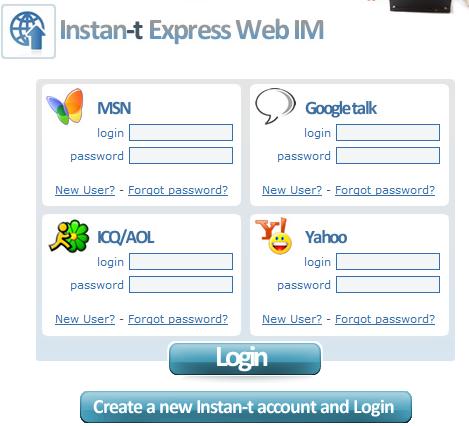 Instan-t is a great web based messenger that will let you cross-chat with people from other email services. The services it supports include Windows Live, AOL, GTalk, Yahoo, and ICQ. With Instan-t, users can share pictures and videos, add/block/delete contacts, rename contacts, hold video chats, and send files.