This is a paid review of Proxybonanza paid proxy service.
If you're browsing the web from an office or school, you're most likely on a highly restricted network. Many public networks block video sites like Youtube and Metacafe due to the high bandwidth that these consume. Additionally, several other social networking sites like Facebook, Orkut etc. also end up being blocked. Honestly, I never understand the purpose of the latter, but then network admins do not want you spending all your time "networking" when you should be working.
One good method to bypass this is to setup tor. However, you'll find browsing to be terribly slow. Additionally, it is also possible to block tor proxy IPs since it is an openly available list.
Then again comes in the issue of privacy when browsing sites. If you don't want the websites you visit to detect your details, you'll want to use a proxy.
Here's where Proxybonanza's proxy service comes in. Proxybonanza provides proxy IPs that support anonymous SOCKS5 and HTTP protocol. Thus, you can even use it programs that require socks5 proxy support.
Features:
Proxybonanza offers 2 kinds of proxy service: shared proxy and exclusive proxy (dedicated)
very reliable service with 99% uptime and very good connection speed
USA based proxies
IP authentication with exclusive packages
money back guarantee
up to 128 IPs
socks5 proxy and http proxies
Getting started is very simple. Either pick the shared proxy or exclusive proxy. There are three plans each based on the bandwidth. In case of exclusive proxy, you receive a dedicated IP address. These also offer you more bandwidth per month. The smallest shared plan gives you 3GB bandwidth which should be sufficient for most users. If you keep running out of bandwidth, you can always upgrade to higher plans or buy more bandwidth.
Once you signup and pay via PayPal, your account is setup and you can login to your user panel and view the IPs allotted to you.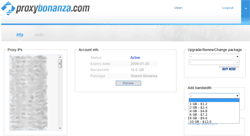 You will then need to configure your browser to accept proxies. Read how you can do it with:
You can also configure your other programs, like Yahoo! Messenger or Bittorrent to use these proxies. Now, try to open that blocked site. I tried YouTube.com.
You'll be prompted to enter your username and password here.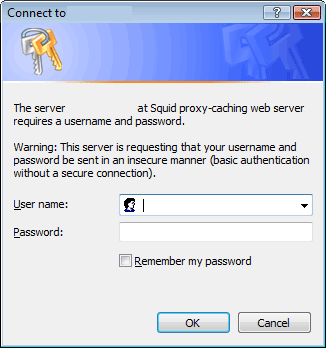 On entering the details you're in. Now, you can browse to any of the sites. You will need to login again if you close your browser.
I tested viewing a few videos at YouTube and they streamed at a decent speed. Again, this depends on your internet connection. Overall a worthy investment if you want speed and privacy and are willing to pay for it.
Are you already using Proxybonanza? What has been your experience so far?