Burn your Cd/DVD on Mac with Roxio
Roxio is one of the leading companes that specializes in digital media software solutions. They have recently launched the latest version of their market leading buring and digital media software for Mac known as Toast 10 Titanium.
Toast 10 Titanium is claimed to be one of the most essential complement to the Mac OS X and iLife applications. It provides you an easy way to burn your music, video, photo and data files on to Cd, DVD or Blue-ray Disc for Mac.
In addition to that Toast makes copying discs a snap which means you can copy CDs, DVDs and Blu-ray discs with just a click on a button.
"Toast is far more than better burning on Mac OS; it's about enabling users to manage, create, enjoy and simply do more with their personal library of digital photos, music, and video," said Vito Salvaggio, vice president of consumer products, Sonic Solutions. "This latest version will have special appeal to consumers that want to easily move digital media between their Mac and digital devices such as the iPhone and TiVo, or enjoy Web-based video content offline."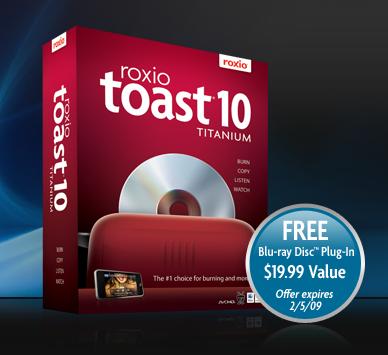 New features include
Extract clips from any DVD-Video and convert to the format of your choice**
Save web video to enjoy on TV and on-the-go
Archive AVCHD camera footage to disc with a single click
Build your MP3 library with automatic capture and tagging of Internet audio
Convert audiobook CDs for playback on your iPod®
Transfer video from your Mac to your TiVo DVR to enjoy on your TV
Enjoy over 20 new stunning DVD and Blu-ray Disc menu styles
Sync up folders bi-directionally – between multiple computers, folders or external drives
Toast 10 Titanium and Toast 10 Titanium Pro are now available through Roxio's official site for about $100 and $150, respectively.