Browse safely on your desktop or iPod with Anonymizer Universal
Whenever you are online, there is one thing that you have to always be afraid about. Is somebody snooping? Today with progresses in technology, it is much easier to collect details from your computer, than it was a few years ago.
This is why you have an array of anonymous proxies available today that helps you browse websites more securely. However, many a times you're at the mercy of the proxy server to be running and using a proxy website means your website hidden under the banner of the proxy website.
I have also tried other anonymous services that allow you to change the proxy of your server and then you're good to go. This is where Anonymizer Universal differs. The power of the software lies in the fact that it seamlessly integrates with your normal internet connection.
In more technical terms:
Anonymizer Universal combines the most secure VPN (Virtual Private Network) technology with our proprietary IP rotator technology providing an additional layer of anonymity by changing your computer's IP address on a daily basis. This, in combination with our in-house, secured networks that cannot be accessed by any third parties, provides maximum security for all of your Internet activities.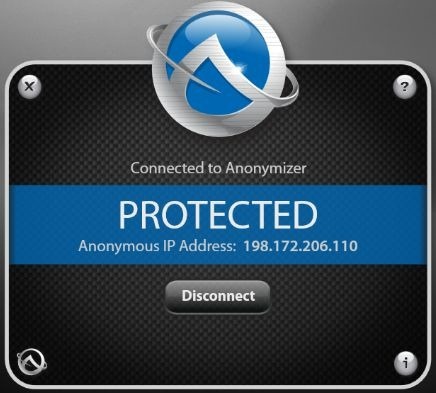 Anonymizer sits between you and the website you plan on browsing to and prevents the site from capturing your ip related data.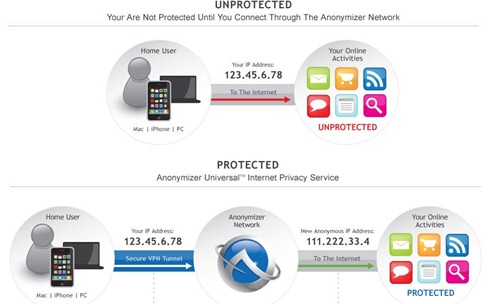 The best part about the software is that you can run it on your Windows or Mac and on your iPod / iPhone. The bad news is that the software retails for $79 which isn't a lot of money for the peace of mind it brings you.
However, the benefit of the license is that you can secure either your Windows or Mac system and your iPod / iPhone as well. With Anonymizer Universal, you're covered at home or on the go. Whether you are accessing the Internet on your device from your living room or a Wi-Fi connection in an airport, café, or local park, you get 24/7 protection.
I've signed up for it. However, remember to turn it off when you are using any P2P application.
Windows XP/ Vista/ Windows 7:
http://www.anonymizer.com/consumer/products/download/a_AnonymizerUniversalWindowsClient
Mac Leopard/ Snow Leopard:
http://www.anonymizer.com/consumer/products/download/a_AnonymizerUniversalMacClient
iPhone 3G, 3GS, 4G/ iPod touch 3G/ iPad:
http://www.anonymizer.com/consumer/products/download/a_iPhoneConfigGeneral