Bring Facebook to Your Desktop with FishBowl
When I try uploading my photographs on my Facebook account, sometime the uploading takes a long while and session times out, causing an error. These errors make me wish for a desktop application that can do the same photo uploading task for me without having to run a browser. When I came across Fishbowl, I found the desktop application offering exactly what I wished for plus a lot more.
While introducing the public to Silverlight 4, Microsoft also gave a sneak peak at Fishbowl which is a visually brilliant Facebook application. Currently this application can be downloaded for free from its homepage.
With Fishbowl, you can automatically log in to your Facebook account, and have everything presented to you in an awesomely sleek manner.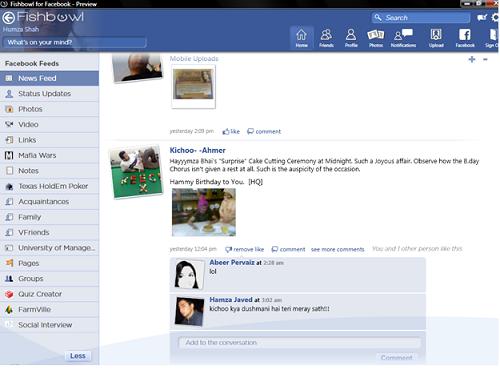 When the application runs you are taken directly to the News Feed where you can see what the latest with your friends is. From the panel on the left, you can filter the News Feed by choosing to view only Status Updates, Photos, Videos, or Links.
You can update "What's On Your Mind" in the field to the top left.

The choices available to the top right let you sign out, go over to your friends, photographs, or see if there any notifications. If there are any notifications, you will see a red encircled number much like when you use Facebook with a browser:

Images are presented in a very impressive way. In Facebook we need to click Next and Previous to scroll between pictures. However with Fishbowl we can use the scroll wheel on our mouse. This desktop application even offers something Facebook does not: the option to zoom into a picture. On top of the picture, you find different options which include zooming in, saving or printing the photograph, and viewing the photos as a slideshow. The comments on that particular image can be seen on the right: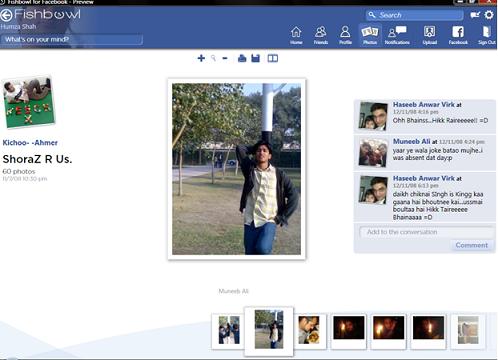 You can also save entire albums with a single click by browsing over to it and locating the Save button:
While all these features are simply amazing, the one that appealed to me most was the drag-and-drop-photo feature. Simply click on the Upload button to the top right and drag your image in the area: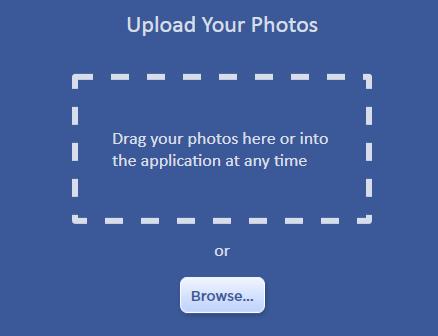 Fishbowl is compatible with Windows XP, Vista, and 7. With 7, it comes with added features of improving the taskbar with Jumplist and Aero Peek features.
No doubt Fishbowl will appeal to a lot of users as it has to me, but there still are quite a few areas which need improvement. For instance, video support needs major improvements. Firstly you are not able to browse to any videos. If by some chance you do find a video link and click it, a pop-up opens and in which your video may or may not run.
Another feature that should be incorporated into Fishbowl is support for Facebook application. A Mafia Wars fan, I would highly appreciate if I could play the game in a desktop application. Unfortunately Fishbowl does not currently provide that.
Perhaps as time passes, Microsoft will add these features to Fishbowl making it the ultimate Facebook client. For now, we will just have to enjoy the amazing graphics of Fishbowl and its ease of access.