Binverse – your one stop shop for all things Usenet
In the age of torrents, one method of file sharing that has still remained prevalent for several years is Usenet.
Usenet was created in 1979 by two university students looking for a way to share "news". Usenet quickly grew into the largest Internet discussion community a full 10 years before the World Wide Web was ever created (The World Wide Web was proposed in August 1991). Today, Usenet has grown to be so much more than just a forum to share news, expanding to pictures, videos and even software.
Binverse is an easy to use all in one Usenet solution where members receive access to the Usenet network, feature-rich Usenet software, and a built in Usenet search engine. You will be able to use the Binverse service to search Usenet and download text messages, videos, audio, images or any other type of file posted by other members. Files and messages are stored on commercial grade servers with multi-gigabit Internet connections so your downloads are always lightning fast.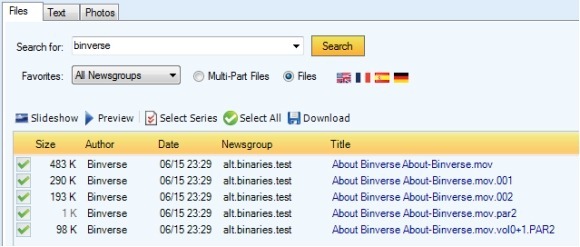 Key Points About Binverse:
Binverse is one of the top premium Usenet providers in the U.S. with a 5 Star rating from Tucows. Binverse makes downloading from Usenet simple, secure and fast.
Speed – Binverse does not cap your download speed.  You can download as fast as your Internet connection will allow.
Selection – With more than 800 Terabytes of user uploads available, you can find almost anything you are looking for.  Binverse retains posts on its servers indefinitely, meaning the selection keeps growing every day.
Security – Every Binverse account comes with 256-bit SSL server connections.  This is the same level of security provided by your bank online.  This is a feature that many other providers charge extra for.
Search – Binverse comes with a built-in search engine which makes finding what you're looking for on Usenet easy.  This is a feature that many providers leave out.
Software – The advanced Usenet software allows you to preview Audio, Video & Image files before you download, so you can make sure you get the right file the first time.  Software comes pre-configured. Just fill in your user name and password and you are ready to download.
All accounts come with a 3 day trial period, which means that within the first 3 days you may try out our service and cancel anytime if you are not satisfied. If you do not cancel your account within the first 3 days of your membership you will be charged the price for the plan you chose upon registration.
The plans are a bit pricey costing $29.98/mo (or $16.65/mo if you sign up for 6 months). However, the plans are perfectly worth it if you are a regular user of Usenet.