Got that brand new music player that supports DivX files and you have the videos but in a language that, well, you need to read the subtitles.
On the PC is it extremely simple as several media players have support for subtitle files.
You can use AVIAddXSubs for adding the subtitles to your avi file.
AVIAddXSubs is a simple to use, free program to incorporate subtitles (XSUB) from .srt (ANSI text, up to 8 srt) or idx/sub (containing up to 8 subtitles) quickly and easily to your avi files containing DivX/XVid video streams.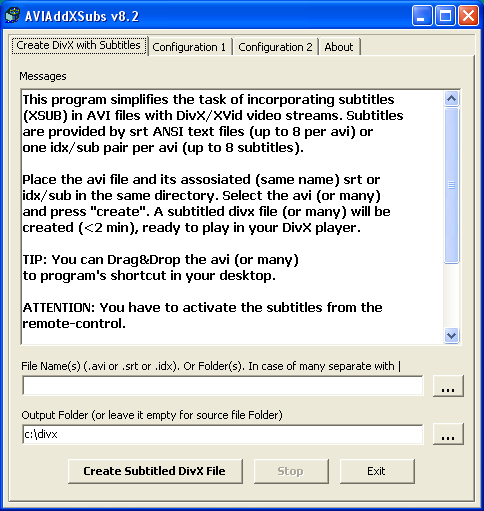 Either use the interface above or just place the avi and its associated (same name) srt in the same directory and Drag&Drop the avi on AVIAddXSubs icon or shortcut in your desktop. A new file with divx extension will be created and be ready to play in your hardware DivX player.
i.e. someMovie.avi + someMovie.srt = someMovie.divx
You can select the subtitle as you would if your played a DVD on the player.
You no longer need the .srt file after the same has been added into the video. No re-encoding means no loss in quality.