Ajax Edit Comments New Year's Special – $175 discount
The folks at Ajax Edit Comments (me included), are offering a discount of $175 on their unlimited plan option!
When subscribing, all you need to do is use the coupon code HAPPYNEWYEAR.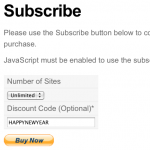 The coupon will be valid for 24 hours, so act quickly.