7 free Mail apps for your Google Nexus 7
I bought the Nexus 7 (32Gb) last week when Google released the new model. At £299, it is perfectly priced and you receive a powerful tablet power by Google and Android.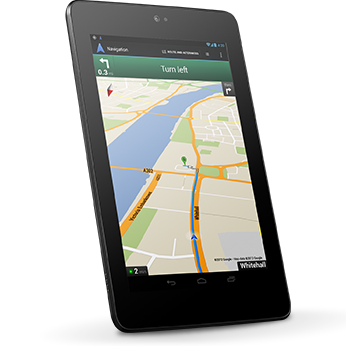 This is my first Android based devices and I spent a good portion of my weekend exploring the tablet and the Play store.
I've been hunting for a good Mail app and I present below some of the popular apps that allow you to check mail on your Nexus 7 or just about any other Android device including smart phones or tablets.
Gmail
This is the default app that comes in built when you buy the Nexus. You can use this to get your Gmail email instantly via push notifications, read and respond to your conversations online & offline, and search and find any email. Gmail also lets you add multiple accounts, view and save attachments and set up label notifications.
Get the Gmail app from Google Play
Yahoo! Mail
The official Yahoo! Mail app for Android. Allows you to manage multiple Yahoo! Mail accounts, preview photos, send and receive attachments.
The app has better integration with Yahoo! Messenger (if you still use this) and will also send push notifications when you receive new emails. A good feature is the ability to compose email with rich text and emoticons.
Get the Yahoo! Mail app from Google Play
Hotmail
The official Hotmail app from Microsoft. Supports multiple Hotmail, Windows Live or Outlook accounts. Allows you to send, receive and view attachments and pictures.
You can also view all your Hotmail folders, including junk, sent, trash and other custom folders and sync your calendar and contacts.
Get the Yahoo! Mail app from Google Play
K-9 Mail
K-9 Mail is an open-source e-mail client with search, IMAP push email, multi-folder sync, flagging, filing, signatures, bcc-self, PGP, mail on SD & more. It supports IMAP, POP3 and Exchange 2003/2007 (with WebDAV).
You can use K-9 to check multiple accounts, including your Yahoo!, Gmail, and other RFC6154 SPECIAL-USE-compliant servers. It allows you to send, receive and save attachments.
Aqua Mail
Easy automatic setup for popular email services (Yahoo, Hotmail, Gmail, and more). Support for many other email services via standard Internet email protocols: IMAP, POP3, SMTP. It support Push mail for those servers that support it (Gmail, GMX and more).
This is the Lite version, which is limited to two accounts, no identities, and adds a promo signature to all outgoing messages with a link to the program's web site.
Get Aqua Mail from Google Play
MailDroid
MailDroid is your IMAP Idle and POP3 email replacement for the default client!
MailDroid is an ad-supported Webdav/POP3/IMAP Idle Push mail client written from the ground up and and not based on the stock Android mail client.
The client includes a WYSIWYG editor with spell check. You can send and receive attachments, configure custom rules to filter your email, search through email and more.
Get MailDroid from Google Play
mail.com mail
Get MailDroid from Google Play
The mail.com app gives you the best experience for your mail.com account and all your other accounts (e.g. hotmail, yahoo or googlemail). Enjoy features like pinch to zoom for html mails and get the best overview in our unique fullscreen mode. Set a customized quiet time for when you don't want to be notified by incoming messages.