7 free apps to listen to radio on your Google Nexus 7
Last week we covered 7 apps to check email on your Nexus 7. With both the 16Gb or 32Gb, you have sufficient storage space for your music files. However, if you're looking to listen to something different and are wanting for choice, then radio is an excellent choice.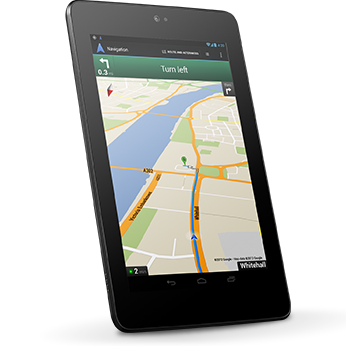 In this post, I'll cover some of the popular radio apps you can install on your Google Nexus 7 or any other Android smartphone or tablet.
TuneIn Radio
This is my favourite radio app. TuneIn gives you access to music, sports and news from every corner of the earth, with over 70,000 radio stations and 2 million on-demand programs.
I've used TuneIn on my iPod, iPad, Blackberry and now on my Nexus 7 and have been always pleased by its performance.
Get TuneIn Radio from Google Play
Winamp
Winamp is a powerful media player for Android. In addition to giving you full access to your music on your Android device, Winamp also allows you access over 50k+ SHOUTcast radio stations as well as download some free music and listen to select CD collections.
If you have Winamp on your PC or or Mac (I found the Mac support still very buggy) you can synchronise your existing music or iTunes libarary.
doubleTwist Player
In addition to Winamp and TuneIn above, doubleTwist is one player I regularly use to listen to music. It also doubles up as a radio app giving you access to thousands of radio stations neatly sorted by genre.
Like Winamp, doubleTwist will allow you to synchronise music to your PC or Mac. Support for Mac is limited currently for the Nexus 7 and you need to purchase to upgrade to use the over-the-air synchronisation.
Get doubleTwist Player from Google Play
Live365 Radio
Live365 radio gives you access to more than 7,000 free online radio stations. Featuring 250+ genres of music, Live365 showcases artists and radio producers ranging from Roy Orbison, Pat Metheny, and Carlos Santana, to commercial and public radio stations, to individual DJs who program stations in every style.
The Live365 app also allows you to access stations in new Live365 Networks catering to specific audiences.
Get Live365 radio from Google Play
Jango
Jango Radio is free, personalized radio that plays the best music by artists you love. Just start with the name of one of your favorite artists, and Jango will create a custom station that plays similar music.
You can tune in to hundreds of expertly programmed genre stations like Top 100, Hot in Hip-Hop, Indie Dance Hits & more.
Jango allows you to use your Jango.com login to access your existing stations or add new ones.
Get Jango Radio from Google Play
Stitcher
Listen to your favorite news, comedy, sports and talk radio shows on your Android phone or tablet.
Discover the best of NPR, CNN, Fox, BBC, Freakonomics, Adam Carolla, TedTalks, SModcast, Joe Rogan, Rush Limbaugh, Radiolab and over 10,000 shows, podcasts and live radio.
Get Stitcher Radio from Google Play
XiiaLive
XiiaLive gives you access to over 50,000 radio stations. Stream music and explore more than 50,000 live radio stations from all over the world. Search, organize, tag, and add or save your favorite streams for easy access any time you want.
XiiaLive™ is easy to customize and optimize to your own taste with features like skin themes, data guard, notification sound FX, Bluetooth options, separate internal volume, etc.
Do you listen to radio on your Android device? Which is your preferred radio app.