5 More Free Tools To Download Videos From Youtube and Other Sites
Video streaming websites today have countless entertaining clips on them. When not entertaining, their content is educational and aimed to help the viewer learn something. Often we find video clips which we consider worth sharing with other friends. Thanks to online social networking, this can be done by copying the URL of the video and sharing it directly on their Facebook, Twitter, or any other network they have an account on.
But that procedure is fit for your friends who use the internet. Even today there are a number of people not using computers, let alone the internet. Suppose you were streaming an entire movie online and want your grandmother to watch it as well. For that you will need a DVD of that video, which you can burn after you download the video from the website.
Numerous tools are available for downloading a video from a website. They come in different forms, as installable applications and even as websites. Read on to learn about five of the best video downloading tools which will help you easily obtain that video of interest, and share it with other people offline.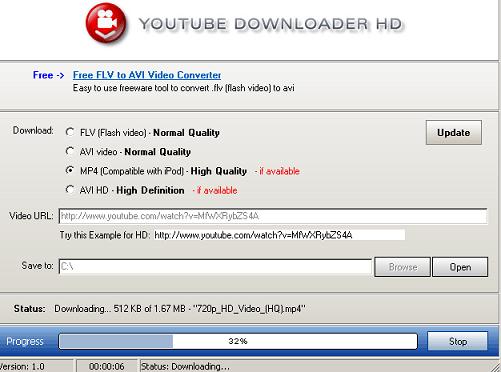 YouTubeDownloaderHD is a free tool to download videos from YouTube and save it to your local computer. The videos can be converted to AVI video format or to MP4 to make it compatible with your MP4 player or cellphone. The great part about this YouTube downloader is its ability to download the HD videos; this option can be chosen for any video for which an HD version exists. Getting the video is made quite easy – all a user has to do is paste in the URL and click the START button. The program is merely 2MB in size and completely malware and adware free.
2. iFunia YouTube Downloader for Mac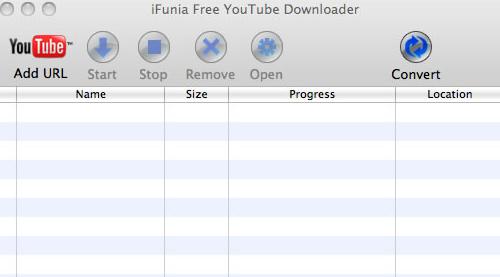 Mostly applications are made for the PC i.e. Windows operating systems, while Macs are overlooked. But if you are a Mac user looking for an installable program which can download YouTube videos, then iFunia is where your search ends. The program is a freeware and includes an impressive array of features. The user-friendly interface enables video downloading from YouTube in FLV format. Even the YouTube HD videos can be downloaded. A surplus feature is the ability to download from Google Videos.
3. Clipnabber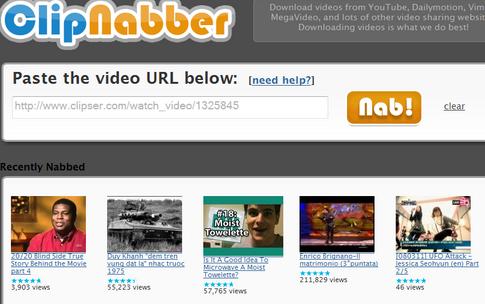 If you are on somebody else's computer and do not have the privileges to install new software, then video downloading websites can help you out. Clipnabber is one of these sites. As the name appropriately suggests, the videos are 'nabbed' from their URLs. All one has to do is paste in the URL, and click on NAB. An option is presented to the user for him/her to decide whether to download the video in FLV or MP4 format. Choose your respect format to continue the download. A collection of the current most popular videos can also be viewed on the site's homepage. These act as suggestions which you might find interesting. With Clipnabber you do not have to install anything neither do you have to register – simply paste the URL, choose your format, and get the job done.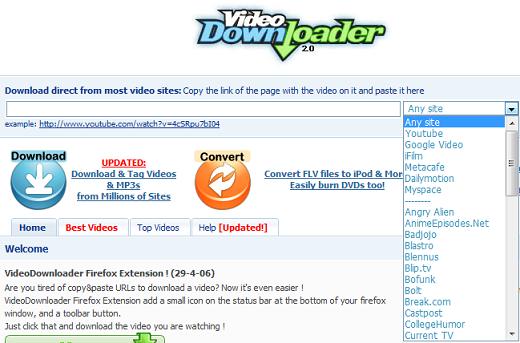 Javimoya is an all-rounder website. Users can download the video by simply pasting in the URL and getting the download link, or install a Firefox extension to eliminate the need to revisit this site each time a download is required. Of course the extension is a far better idea and should be gotten if possible. Like Clipnabber, Javimoya also has a list of videos. But here they are classified into two categories: BEST VIDEOS and TOP VIDEOS. One category has the highest rated videos whilst the other has the most popular. Visit Javimoya to find out how it can ease your video downloading.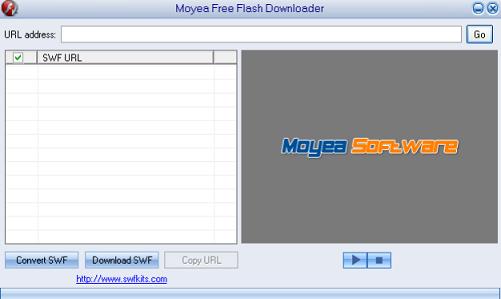 If the video you are trying to download is in the form of a FLASH advertisement, or is part of a game, then there is a great chance it is in the SWF format (instead of the usual FLV format). SWF format is also used by games on various websites. Moyea offers a great program to download whatever SWF material is hosted on a site. This is a unique type of video downloader which is able to download FLASH videos as well as FLASH games! The operation is quite simple: paste in the URL, click on GO to obtain a list of all SWF things, preview them on the player to the left, select the ones you want downloaded, and click on DOWNLOAD SWF. Sized at less than 2MB, Moyea is a FLASH video downloader that offers a lot more than its competition.