5 lesser known Contact Form plugins for WordPress
Everybody has heard of Contact Form 7 (we use it here on Techtites) as well as many of you might have got your hands on Gravity Forms.
Besides these, there are several other lesser known contact form plugins that make it easy to collect information from your visitors. I've highlighted five of these below.
Ninja Forms
Create custom forms with a simple drag and drop interface. Contact forms, Email collection forms, or any other form you want on your WordPress site.
Visit Ninja Forms homepage | Download Ninja Forms
Breezing Forms

Breezing Forms you can create simple and advanced desktop and mobile forms on-the-fly. Includes features like true mobile support, Salesforce, Dropbox, Mailchimp, multipages, summary pages, payments, conditional fields, themes and many more. See videos to learn more about the features of Breezing Form
Visit Breezing Forms homepage | Download Breezing Forms
Form Maker
Form Maker is a modern and advanced tool for creating WordPress forms easily and fast. The back end interface of the Form Maker is intuitive and user friendly which allows users far from scripting and programming to create forms. The version in the WordPress repository allows you to insert up to 7 fields.
Proper Contact Form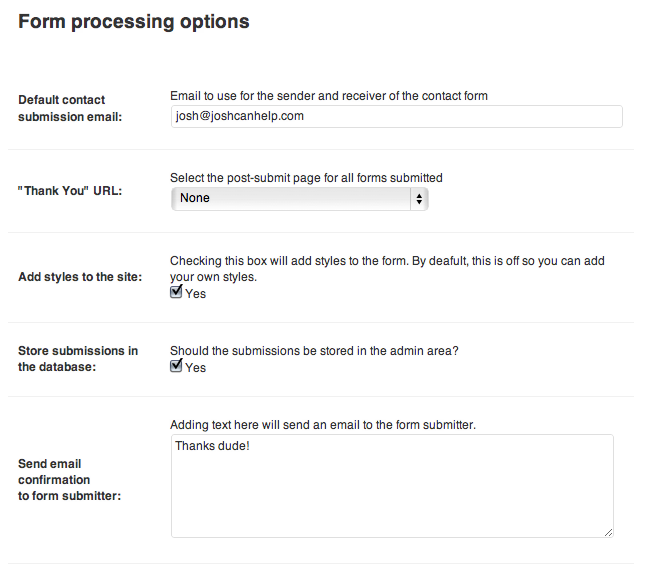 A simple plugin that makes creating contact (and other) forms very simple. The plugin creates a contact form with the shortcode [proper_contact_form] that works on any page. There is a settings page to tinker with a few of the options, and allows you to validate and submit to a new page to help with goal tracking in analytics
Visit Proper Web Projects | Download Proper Contact Form
CP Easy Form Builder
CP Easy Form Builder is a contact form plugin that allows creating contact forms and email them. It makes it easy to create contact forms, booking forms, or other types of forms that capture information via your website. It has a visual interface for creating the contact form with field validation and anti-spam captcha image verification included in all versions. It is as simple as just drag and drop the form fields into the contact form.
Do you use any of these plugins? Which contact form plugin do you use?