5 Free Applications to Rip your CDs to MP3
Got your whole pile of CDs lying around and worried of losing the music due to CDs getting scratched?
Then, it's about time you converted them into MP3 format and store them safely on your hard disk… or even multiple copies across several hard disks.
Here, we look at five free software applications that help you quickly extract your CDs and save them as MP3 files.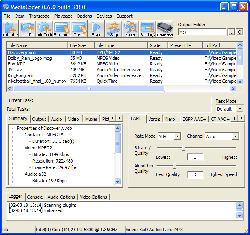 MediaCoder is a FREE universal audio/video batch transcoder distributed under GPL license, which puts together lots of excellent audio/video codecs and tools from the open source community into an all-in-one solution, capable of transcoding among different audio/video formats. We reviewed MediaCoder a long time ago and it's simply among the best applications to work with both audio and video files.
CDex is an application that records audio tracks from CDs and saves them to a disk as regular WAV files or as encoded sound files. This program features an MP3 decoder (MPEG 1/2/3-based) and a new LAME encoder, and has built-in support to generate OGG Vorbis files. CDex is available in English, German, Italian, and Spanish.
CDex hasn't seen a release for quite a while now, however, it still remains a good software to get the job done.
Free CD Ripper can rip your Audio CD to Bin/Cue. And can burn your Audio Bin/Cue image.
You can rip CD audio tracks in MP3,
You can rip CD audio tracks in OGG VORBIS,
You can rip CD audio tracks in FLAC,
You can rip CD audio tracks in WAV,
Send CDDB request to get directly album, artist, track's title,
Mp3 tag Edition
Free CD Ripper is easy to use but fast and effective.
Exact Audio Copy is a so called audio grabber for audio CDs using standard CD and DVD-ROM drives. The main difference between EAC and most other audio grabbers is that it works with a technology, which reads audio CDs almost perfectly. If there are any errors that can't be corrected, it will tell you on which time position the (possible) distortion occurred, so you could easily control it with e.g. the media player.
With other audio grabbers you usually need to listen to every grabbed wave because they only do jitter correction. Scratched CDs read on CD-ROM drives often produce distortions. But listening to every extracted audio track is a waste of time. Exact Audio Copy conquer these problems by making use of several technologies like multi-reading with verify and AccurateRip.
Audiograbber has been my favorite ripper for years. It's fast, easy to use and extremely effective.
Audiograbber copies music from CDs or external sources such as radios, cassettes, or turntables. The music is saved on your hard disk as WAV, MP3, WMA, or OGG files. Audiograbber has all the common features of CD-ripper programs, such as normalizing, encoding of external files, track-name downloading and uploading from and to FreeDB, and support for ID3 tags and CD Text.
There are so many other free and paid ripping software available that I've narrowed down only five of these which get the job done. What do you use to rip CDs?