5 Excellent Backup Tools for Linux
Featuring free Link backup applications for any sort of backup need. You can use these applications to perform a complete back up of a file, data, database, system or server.
BackupPC (Graphical User Interface)
BackupPC is a high performance free backup software suite for Linux that comes with a web-based user interface. It features clever pooling of identical files, no client-side software, and a powerful Apache/CGI user interface. BackupPC is highly configurable and easy to install and maintain.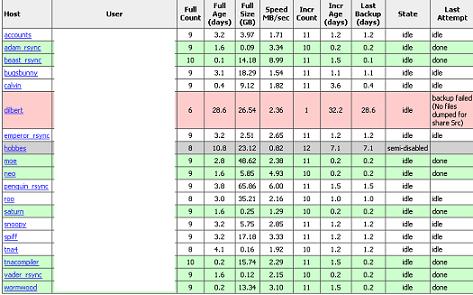 BackupPC incorporates a Server Message Block (SMB) client that can be used to back up network shares of computers running Windows. It also supports DHCP clients as long as the client is registered with a name service such as DNS, Active Directory, or LDAP.
afBackup (Command-line)
afBackup is a free Client-Server Backup System that allows many workstations to backup to a central server. t is used to maintain archives on a backup server host or in a file. Archives can be created, extracted or their contents be listed.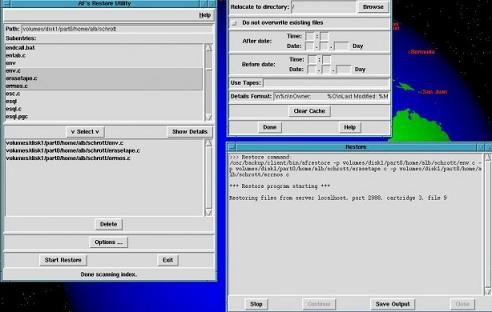 It features
Authentication of the client is performed before it can take over control
Several servers can be configured for each client: the actual server is chosen by availability
Multi stream server, several clients can store to one server at the same time
Remote start option -> centralized administration
Access restriction for the streamer device -> security
Client-side per-file processing -> reliability. If the files and directories were first packed and then processed, by the server a single faulty bit in the processed stream would make the rest of the backup unaccessible for restore
Built-in compression (requires libz)
Data stream is written to tape in pieces of configurable size -> fast finding of files during restore
Tape position logging for each file -> fast finding of files during restore
Tape capacity is fully used
Flexible tape handling and configurable append mode
Full/incremental backups and verify
Raw partitions can be saved
Ordinary users can run the restore for their own files and directories, but only for these
Emergency recovery on different catastrophe levels
Command output saving feature: useful e.g for databases
Cartridge locations database maintained
Support for media changers
Client access to cartridge sets can be restricted
Flyback (Snapshot backups)
FlyBack is software for system backup and restore, which offers similar functionality to the Mac OS X Leopard's Time Machine. FlyBack is a snapshot-based backup tool based on rsync. It creates successive backup directories mirroring the files users want to backup, but hard-links unchanged files to the previous backup. It has almost all of the required technology already built in to recreate it. This is a simple GUI to make it easy to use.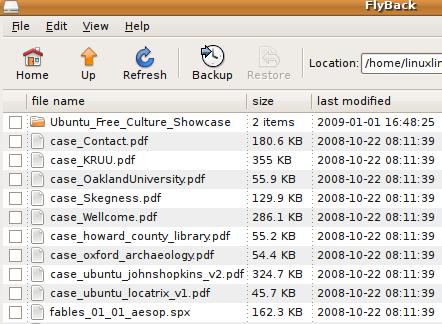 Key features include
Uses crontab to automate backups and cleanups
Has a graphical user interface (or can be run from a console)
Scans the entire directory structure when performing a backup
Selectively delete specific backups, yet retain files stored in previous backups
Offers a chronological view of a file system, allowing individual files or directories to be previewed or retrieved one at a time
rsNapshot (Synchronisation)
rsnapshot is a filesystem snapshot utility for making backups of local and remote systems. It can take incremental backups of local and remote filesystems for any number of machines. rsnapshot makes extensive use of hard links, so disk space is only used when absolutely necessary. rsnapshot is written entirely in Perl. It should work on any reasonably modern UNIX compatible OS, including: Debian GNU/Linux, Red Hat Linux, Fedora Linux, SuSE Linux, Gentoo Linux, Slackware Linux, FreeBSD, OpenBSD, NetBSD, Solaris, Mac OS X, and even IRIX.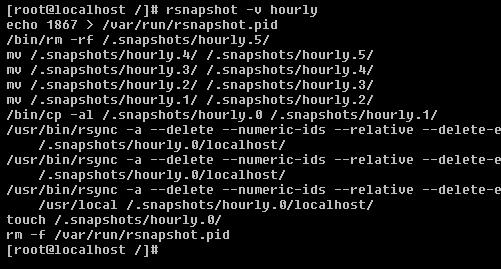 Key features include
Uses rsync to transfer data
Can be used over ssh
Supports multiple levels of backup such as monthly, weekly, and daily
Stores previous versions as actual files and hardlinks to save space
All versions of the backup are accessible as plain files
NFS mounted user restores
Filename filters
Removable media
Based on DRBL, Partition Image, ntfsclone, partclone, and udpcast, CloneZilla allows you to do bare metal backup and recovery. It offers 2 type of backup programs including CloneZilla Live and Clonezilla server edition. It is suitable for single machine backup and restore. While Clonezilla Server Edition is for massive deployment, it can clone many more than 40 computers simultaneously.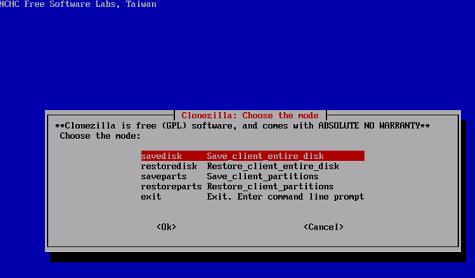 Key features of CloneZilla
Free (GPL) Software.
Filesystem supported: ext2, ext3, ext4, reiserfs, xfs, jfs of GNU/Linux, FAT, NTFS of MS Windows, and HFS+ of Mac OS. Therefore you can clone GNU/Linux, MS windows and Intel-based Mac OS. For these file systems, only used blocks in partition are saved and restored. For unsupported file system, sector-to-sector copy is done by dd in Clonezilla.
LVM2 (LVM version 1 is not) under GNU/Linux is supported.
Multicast is supported in Clonezilla SE, which is suitable for massively clone. You can also remotely use it to save or restore a bunch of computers if PXE and Wake-on-LAN are supported in your clients.
Based on Partimage, ntfsclone, partclone, and dd to clone partition. However, clonezilla, containing some other programs, can save and restore not only partitions, but also a whole disk.
By using another free software drbl-winroll, which is also developed by us, the hostname, group, and SID of cloned MS windows machine can be automatically changed.