1Weather gives you the best weather experience on Android
If you have the Google Search app on your Android lets you quickly view the current weather of the location that you're in, but anything more than that is just a painful experience!
I've been searching for a decent weather app and came across 1Weather which is simply a cool app if you're interested in monitoring the weather around you or any other city in the world.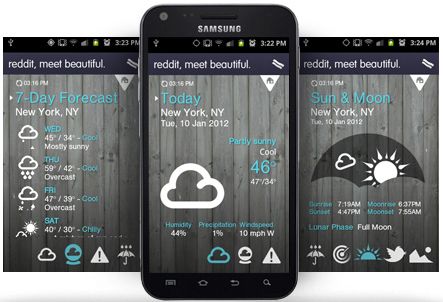 1Weather gives you real-time weather information and forecasts plus weather related tweets from your area that tell you what real people are saying about current weather conditions. All this is presented in a beautifully designed, easy to use and understand interface.
Give it a shot. You'll be checking weather updates continuously!
Key features
Real-time weather and forecasts
Extreme weather warnings and radar (US and Canada only)
7-day forecast and precipitation info
Sunrise, Sunset, and Lunar stage
Radar, air quality and UV charts
Stylish and intuitive interface
Beautiful icons provide at-a-glance info
Weather Tweets from people near you
Weather photos from around the country
Customizable themes