Five Free Registry Cleaners
A while back I covered Three Freeware Tools to Defragment your Windows Registry. These tools are just a subset of a huge variety of tools available to clean and optimize your registry.
The Windows registry is an integral part of your computer and is also the most used portion of your computer. Over a period of time the registry collects a lot of junk entries and gets bloated. A direct result is the slowing down of your computer.
So, what causes these problems?
A regular computer user would open documents, Excel sheets, text files etc. during normal usage. You would occasionally move these files to different locations of your computer, or delete the ones your don't want. All these actions leave stray entries behind in the registry.
If you're into testing software which requires installing and uninstalling software regularly, then you're going to find another set of stray entries left behind.
So, how does one clean the registry?
Cleaning the registry manually is a tedious, if not impossible process. Hence, over the past few years, we've seen a series of both free and paid software being written for this purpose. In this post I'll cover five completely freeware applications that you can use to clean up all obsolete and junk entries from your registry. These need to be run at regular intervals, maybe, weekly or fortnightly, depending on your computer usage.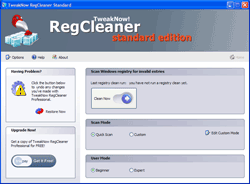 Tweak Now! RegCleaner Standard is an extremely powerful and easy to use software that helps you in cleaning all the obsolete entries from the registry. The software includes a quick scan and a deep scan mode. The quick scan, as the name suggests quickly hunts through your registry and removes the entries. The deep scan carefully checks each and every entry of the registry.
You can either choose the beginner mode or the expert mode when working with the software. Expert mode gives you better control with what to clean etc.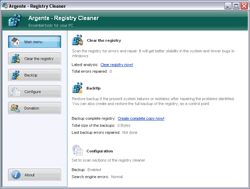 With Argente – Registry Cleaner you can safely clean and repair the problems in the registry with simple click of the mouse. It uses an high performance detection algorithm to quickly identify invalid and obsolete references.
With a few simple steps, Argente – Registry Cleaner scan your entire registry looking for invalid entries and provide you with a list of the errors found in the registry. For your convenience and protection, Argente – Registry Cleaner can also make backups of any repairs made so that in this way you can recover any changes if necessary.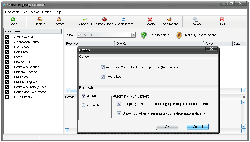 Wise Registry Cleaner is a powerful free registry cleaner and registry optimizer, it speeds up your PC by cleaning your Windows Registry.
It scans the Registry, flagging orphaned or bad Registry entries, and shows you the name and values for each. It identifies Registry entries that may be dangerous to delete, and those that are safe to delete, so you can distinguish between the two. It also lets you decide which entries to delete, and which to keep. For safety's sake, it can also back up your Registry before a scan, so that you can restore it, if the program causes any problems.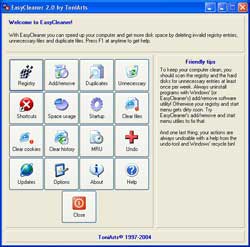 EasyCleaner is a small program which searches the Windows registry for entries that are pointing nowhere. EasyCleaner also lets you delete all kinds of unnecessary files such as temps and backups. You can search for duplicate files and you can view some interesting info about your disk space usage! You are also able to manage startup programs, invalid shortcuts and add/remove software list.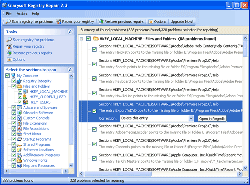 This cleaner tool allows you to fix your registry and optimize your PCs performance. With a few easy steps, you are able to find problems caused by invalid entries, references and links in the Windows registry and provides a list of the errors found, you can then choose to selectively repair each item or automatically repair them all.
Registry Repair is one of the safest Registry cleaning tools available in the market today. Its scanning engine is fast,thorough and safe.
Whenever you clean the Registry, a corresponding Undo file is generated for any changes made which can be used to recreate the entries deleted. You can restore any changes by clicking 'Restore previous repairs'. For added security, Registry Cleaner uses an 'ignore list' containing entries which when encountered upon while scanning are ignored.
What software are you using for cleaning the registry?