Multimedia Monday: Winamp
When you're talking media players, one name that always comes to mind is Winamp.
I've been using Winamp right from its 2.x versions which is to say from quite a few years and have always used it as my primary player when playing long playlists of music spread over a several day period.
Winamp has progressed from its early days, moving from a simple audio player with limited support to a full fledged media player with support for several different audio and video formats, a full fledged media library to organize your music as well as support for portable devices.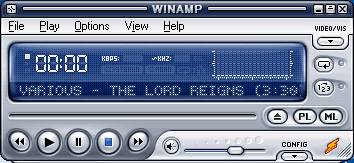 Winamp is available in several flavours. A lite version that only plays a few audio formats, that reminds you of the old winamp. You also have the Full version which is what I use. This comes with complete multimedia support and all the features.
There is a bundled version, which includes a free mp3 and lastly a pro version which gives you faster burning and ripping speeds as well as the ability to create your own mp3s.
If you're new to Winamp, then I suggest taking a look at their walkthru. Alternatively, just grab hold of the software from the link below and get started.