Playlists are simply the best thing that happened to music playback. You can queue and choose exactly which order you want to play your songs and save this list for future use. Playlists IMO are almost a must when playing music on your iPod or music player when you have your music all neatly organized like me.
However, if you have your music all laid out in folders and don't need a playlist any normal media player will do. But what if you want one that weighs in around 100KB?

Well, believe it or not, one exists. It's called 1by1 and is one of my favorite small players for mp3.
1by1 plays all the mp3 files in your directory. It also supports Winamp input plugins and so can play many other formats as well.
The features below explain it out. Though, I suggest you just skip this post right here, scroll to the bottom of this page, download the file and give it a test.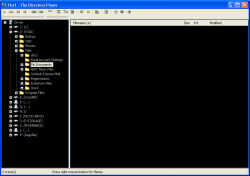 Features
Directory Player (directly plays your folder contents)
Full Resume play (remembers last track and position)
Supported decoders: ACM (mp3), mpglib (mp2, mp3), Winamp input plugins (ogg, wav, cd …)
Gapless play and simple crossfading
Audio dynamics and stereo enhancer
Directory finder (plays a whole drive)
Folder tree file navigation
File utils: copy, move, rename while play, delete, date change
Cue sheet support
Playlist support and creation
Multifunctional big title display
Favorites
From:
- mpex.net
- Major Geeks
- SoftPedia